16 avril 2012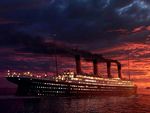 I'm going to inform you about the Titanic. It is a very big boat. His weight is 46 000 tons and his height is 175 feets, 882 feets long. It can support 650 tons of coal per day. It's a boat very speed. It can took 3000 people per day. Inside the boat, there are a swimming pool, gym, photography in a dark room, and lot of things to eat.
Now, I'm going to tell you about the story : The departure was in England on April 1912. On board there was 2200 passagers and crew. At the begening the boat would go to New York but it will never reach at destination. The boat hits an iceberg, so his hull was broken. There was 3 social class, the first class survive and some passagers of the other two classes are dead.
It was a terrible event. When I was child, I've seen the moovie but it was long time ago so I don't remember too.. So, with friends, we are going to see the moovie in 3D at cinema, it's gonna be awesome !
Commentaires sur TITANIC